Ayesha Chandy – A budding Women Entrepreneur shares her journey from Tax Consultant to Starting a Home & Lifestyle Store and Launching a Pickle Brand – Lazy Grasshopper Farm Pantry
I am  Ayesha Chandy and I run The Lazy Grasshopper Farm Pantry, a production center. Here I work on value addition to farm produce zero-waste living initiatives while generating employment opportunities for rural women.
The production center was set up in 2022. It is located at the farm we purchased in the same year.  We reside here, located in a small village between Chennai; Pondicherry. Our focus, whether with the production center or the farm, is to do things naturally. We do everything without preservatives or chemicals, as we strive to live in harmony with nature.
What I did before starting the farm pantry
In another life, I was a tax consultant and have worked with top tax consultancy firms as well as multinational corporates for 20+ years. I have lived and worked across India, with most of my time spent in Chennai; Bangalore.
I also had a 2-year stint in entrepreneurship. I set up and ran Asmara, a home and lifestyle store in Bangalore for two years.
A lot of people ask us "Why such a big shift?" I think for my partner & me, it was the pandemic –apart from completely disrupting our life, it also got both of us thinking about the kind of life we would like to lead. That reminded us that if we keep pushing forward our dreams to 'later', we may not have the energy needed to make the transition. Also, for me personally, I have varied interests. Life in the corporate world consumed all my time. It did not let me pursue any of my other interests.
So many big questions followed –
How do we sustain ourselves in this new lifestyle?

What do I do in this new setup?
This is where the idea of setting up a production center for The Grass Hopper Farm Pantry germinated –
A space where I would convert the farm produce from the farm managed by my partner / produce from neighboring farms into value-added products. It would also be set in the larger context of our organic farm, where we would have guests over for an experience of living on a working farm. This setting would also allow us to cross-sell – customers who buy our products could learn about our farm. People who come to stay with us could buy our products. Thus we formed The Lazy Grasshopper Farm Pantry.
How have the last two years working for the farm pantry been?
Exhilarating, scary, fun, deeply satisfying, and frustrating – each day brings new emotions! Some days are super – getting a new customer, welcoming our first guest, harvesting our first crop …… while others are tougher – having to let go of an idea on account of practical difficulties, having a recipe fail, facing staff turnover on account of ill health.
But through all of it, the resolve and dream behind the production center of farm produce zero-waste living initiatives while generating employment opportunities for rural women have gotten stronger and hopefully will continue to do so for years to come!
Learnings through the journey of developing the farm pantry
My experiences as an entrepreneur have taught me –
∞ Self-motivation is key.
There are times when one feels that things are just not moving. There are so many things that are up in the air but nothing is settling. It's important to remember that things will move along so long as you just get a little bit (or a lot) done every day! Do what you can and the rest will follow.
When I was working on my website, it felt like I was pedaling on a cycle that never stopped. For every suggestion/thing that I needed to fix, I had to first learn. But the day did come when I was able to go live. The high that doing something that you have never done before gives you is amazing!
∞ Don't wait for things to be perfect.
The first version of my website was embarrassingly bad! But it was basic information that was out there. It helped a lot when I was speaking to people I did not know, about what I had planned. And it allowed me to get amazing feedback from my mentor from The Cherie Blair Foundation. That in turn helped me improve the website tremendously.
∞ Be part of a community.
Entrepreneurship can be a lonely path, and it is important to have a connection with others. Whether  it is fellow entrepreneurs who have gone through or are going through what you are experiencing or a mentor you can talk things through with. As a women entrepreneur, there are amazing networks & programs available and this has helped me immensely
– I've gotten inputs from members at HEN India which saved me hours of work & despair! So even if you are a bit of an introvert like I am, do consider it. It does make the journey less lonely and sometimes can even save you from giving up.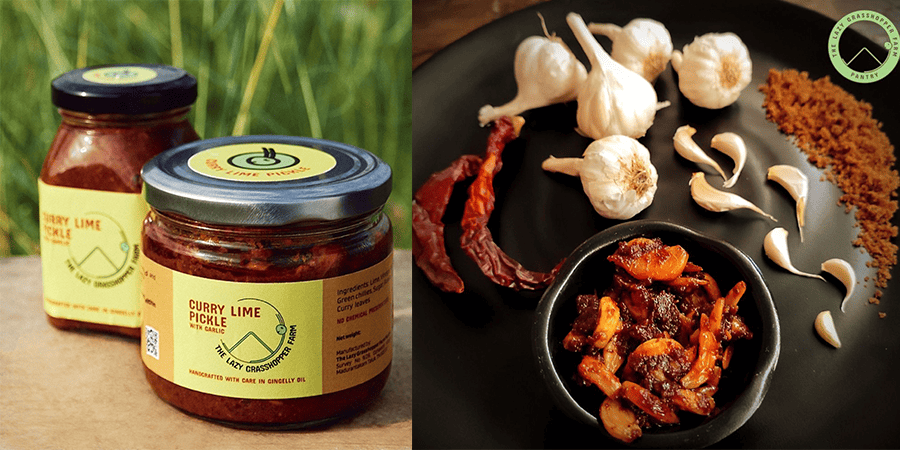 ∞ Failure teaches you the most.
It's okay for a plan to not work – as my mentor keeps telling me, as you go through the journey. Don't be afraid to pivot if you realize that things are not working out. I remember when I was first testing couriering our pickles. I was hell-bent on doing it in glass bottles. I even made the necessary investments in machinery only to realize that the failure rate was too high for me to continue with it without investing in some heavy-duty packaging and the consultancy needed to get it right. So, the idea has been parked for now. However, I will pick it up again when my business can sustain the expense.
∞ Scaling your business is tough & can be slow.
Be prepared to start small and work your way through what you want to get done. When I started my farm pantry, I attended markets and sold to family & friends. This helped me get feedback, understand the kind of products that people are looking for, and test out my packaging & couriering.
It's better to start small so that the mistakes you make are not as expensive! But I try never to forget the big picture. I hope to take the necessary risks to grow the business to reach the scale where it goes from being a business where I am not only paying out to my vendors and employees but also myself on a sustained basis.
∞ Choose what you spend on.
This I learned the tough way from my first business which failed. Being an entrepreneur means that you will have the constant tussle between funding & the myriad ways you can spend your money. Spend on what is essential & where you cannot do it yourself – for us, a catchy logo was key so this is something we went to an expert for. However, we developed our labels ourselves – because once we had the logo of The Lazy Grasshopper Farm Pantry, it was just detailed that needed to be put in.
There will come a time when I will not have the bandwidth to do everything myself, and that's the time I will look for external help. But I believe that my experience of having done it myself will help to get the work done in the way that is right for our brand.
∞ Don't be afraid to ask.
Whether it is part of a formal arrangement like mentorship or an informal one like design feedback from design experts who are your relatives & friends, people I know have been so generous with their time and input.
∞ Above all, be passionate about what you are doing.
Both of my businesses have given me immense satisfaction in the doing, and that makes all the difference – it allows me to get up each morning and think of what needs to be done, and then apply my mind to how it needs to get done. When women from the surrounding villages come and ask for work, it strengthens my resolve to grow the business and in turn makes me more passionate about the work I do.
For each of us, the passion may come from something different, but it's important that it's there!