The HEN meet on 'Define Your Brand Personality – 12 Types of Brand Archetypes' was led by Gunjan Pai, founder, CopyLove to illuminate the significance of discovering your Brand Voice and leads to developing the same by walking you through exciting exercises.
About Gunjan Pai: Gunjan has an extensive background as a copywriter. She honed her skills during her 6 year tenure at Ogilvy & Mather and Lowe Lintas. She furthered her expertise through prestigious business management scholarships at IIM – Bangalore and ISB, Hyderabad, as part of the Goldman Sachs 10,000 Women entrepreneurship program. As the founder of Copylove, Gunjan draws on her 21+ years of experience with renowned companies, brands, and entrepreneurs. CopyLove's client portfolio includes esteemed names like Cred and TATA Steel to newbie start-ups as well.
During this enlightening session, Gunjan Pai helped entrepreneurs gain clarity of vision and empowered them to define their brand voice.
The key takeaways for entrepreneurs were as follows:
Understand your brand and audience: Learn to translate your brand's essence and values into compelling words that resonate with your target audience. This understanding will revolutionize how you approach your brand's copy and content.
Uncover your brand's purpose and personality: Discovering who you are as a brand and understanding your purpose are vital steps in developing your brand pitch, personality, and voice.
It is a total of all your Visual and non-visual, so what you can and cannot see.
Whether you're a B2B business or whatever kind of business you are, the only alphabet you need to remember when it comes to branding is P2P.
You, as a brand, speak to a person, right? Your audience is a living, breathing human being. We are not selling Our Brands to things, we are selling Our Brands to people, but one thing that you may or may not know is that you should treat your brand as a person; you also have to believe that your brand is a personality.
In the same way, your brand also will start creating certain perceptions already right so your brand has always to be treated as a person.
It is essential to build the route to understand your brand not as a set of products or services, or you know whatever you are offering as your expertise, but to step away from that.
Philosopher Carl Young said that all the people in the world are 12 types of people. You are one of any of the 12 tribes.
In Branding Theory, people have taken this concept forward and grouped the world's brands into these 12 brand types, also called Brand Archetypes, which become the beginning of shaping your brand into the personality of this entire world into 12 categories.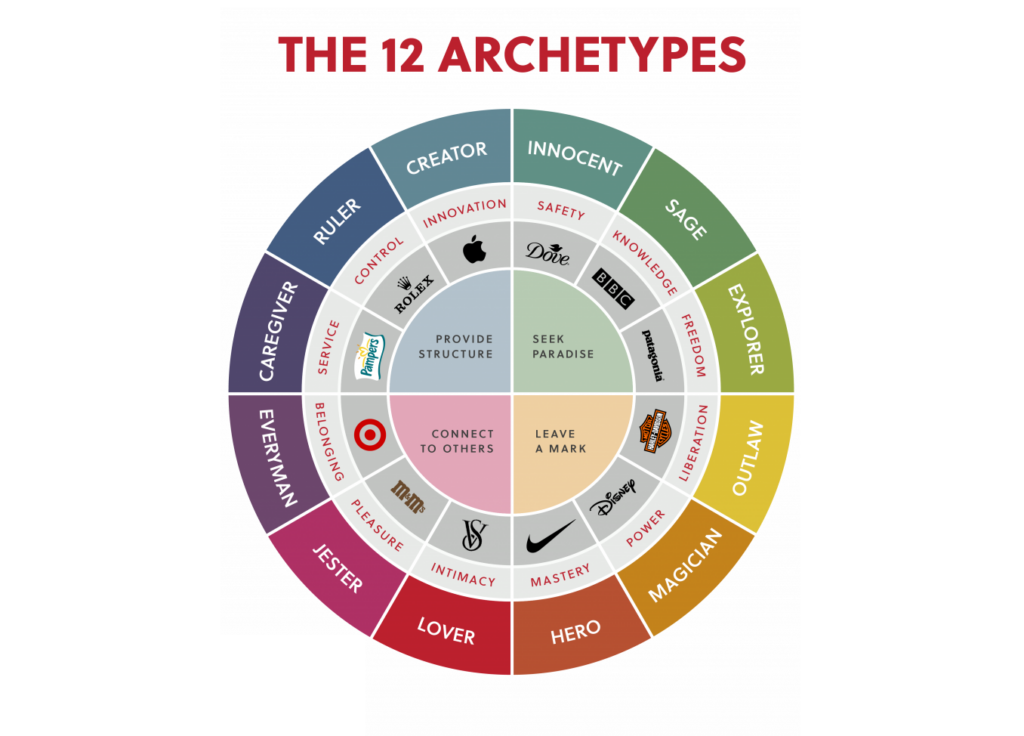 Define your Brand Personality according to the archetype you think your brand belongs to and then if you belong to that archetype what kind of voice will you have. 
For Example
Should your voice be vital if you believe that you are a ruling brand or you think that you're An Outlaw Brand?
Should you know what your voice should communicate or sound like?
Give Your Brand a Personality
REBEL: Challenges norms and tries different ways of doing things. Example: Royal Enfield is famous for its influential and iconic motorcycles, symbolizing strength and excitement.
MAGICIAN: Creates experiences that change how we feel and see things positively. Example: Amul is a dairy brand known for its fun and creative ads that bring joy and happiness.
HERO: Represents excellence and mastery.  Example: Nike is all about inspiring people to be their best selves. 
LOVER: Connects deeply with people and evokes emotions of love and sensuality. Example: Tanishq, a leading jewelry brand, celebrates love and memorable moments, creating an emotional bond with its customers.
JESTER: Brings joy and encourages living in the moment. Example: Fevicol, a well-known adhesive brand, uses humor in its ads to entertain while showing the strength of its products.
EVERYMAN: Appeals to a broad audience by meeting everyday needs. Example: Tata Salt is a famous household brand that provides quality and affordable salt for a broad range of consumers.
CAREGIVER: Provides care and leaves a lasting impression. Example: Lifebuoy is known for its hygiene products, promoting cleanliness and protecting the well-being of individuals and families.
RULER: Holds a dominant position and commands authority. Example: Mahindra & Mahindra, a prominent automobile manufacturer, is a leading player in the automotive industry.
CREATOR: Celebrates creativity and brings joy to the act of creation. Example: FabIndia offers handcrafted and ethically sourced products, supporting Indian artisans and promoting traditional craftsmanship.
INNOCENT: Represents purity and honesty, aiming to improve the world. Example: Dove

SAGE

: Represents wisdom and caters to knowledge-seeking audiences. Example: National Geographic is a leading TV channel providing valuable information and insights to its readers.
EXPLORER: Symbolizes freedom, adventure, and the pursuit of new experiences. Example: Wildcraft is an outdoor gear brand encouraging exploration and the spirit of discovery through its products.
Crafting Your Brand Voice:
By aligning your brand with a specific archetype, you can define its personality and subsequently determine the appropriate voice for your brand. For example, a solid and assertive voice might be suitable if your brand aligns with the ruler or outlaw archetype.
Unveiling the power of brand archetypes is a transformative process that empowers entrepreneurs to understand their brands deeper. By embracing a specific archetype and shaping their brand's voice accordingly, entrepreneurs can effectively communicate with their target audience and forge meaningful connections. 
Embrace the journey of defining your brand personality and watch as your brand flourishes in the competitive marketplace.